Search for Golf Package Lodging
My Golf Vacation proudly partners with luxury accommodations throughout the Southeast, including some of the best lodging available in Alabama, Florida, Mississippi, Kentucky, North Carolina, South Carolina, Virginia and Tennessee. We travel to many of our lodging partners to ensure that standards of myGolfVacation are met! Browse through our selection of lodging below - you can select lodging by state or by area you are looking to plan a golf trip:
Featured Lodging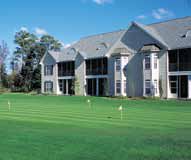 Village at the Glens
Located on the picturesque Heather Glen Golf Links, this Scottish-styled Myrtle Beach area golf community is well known as one of the best values in golf accommodations in Myrtle Beach. Spaciousness, comfort and convenience are the hallmarks of design in this beach golf resort, adding to the Village at the Glens reputation for outstanding value for those looking to stay and play golf in Myrtle Beach.